Whoooa… Did you ever see anything just sweep itself through the public awareness so quickly and so sharply? There was some majorly overt mass hypnosis going on there, eh?
So swine flu is a pandemic. Last night on the news here in England, they showed pictures of the top league Mexican football teams playing their matches in empty stadiums!
Can you imagine if Manchester United, Chelsea or Liverpool had to do that… Every time anyone scored a goal, the TV cameras would actually pick up the words they said, they would not be muted by the roar of the crowd… Or when a plyer is fouled, you'd hear him shout "Oh f-ing 'ell ref… That's the second f-ing time he's f-ing hacked me" and so on…
Today, I am discussing the swine flu mass hypnosis, let me explain…
Yesterday, I joked that the 90s rave music combo Altern8 would not mind the upcoming swine flu pandemic in the UK… They always wear those protective masks.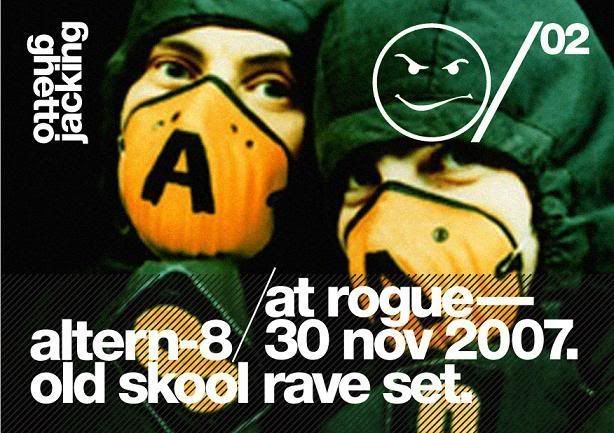 I think it is indicative of the way the media is so powerful now… The news has spread the word into our consciousness massively and very quickly… Health experts, scientists and other people are being interviewed left, right and centre… Office blocks and schools are telling workers and pupils to wash their hands regularly and we have public safety warnings in the form of advertisements coming to our TV screens too.
For me, I am just fascinated by the way in which the entire public awareness can be heightened in a matter of days. The pharmaceuticals companies must be rubbing their hands together… Apparently a vaccine is to be administered here in the UK but will not arrive for a couple of months… So we are clinging to the edge of our seats until then…
A brilliantly hilarious blog I follow (xkcd — a webcomic please do visit) had this very funny cartoon showing how modern communication is spreading awareness of the swine flu pandemic: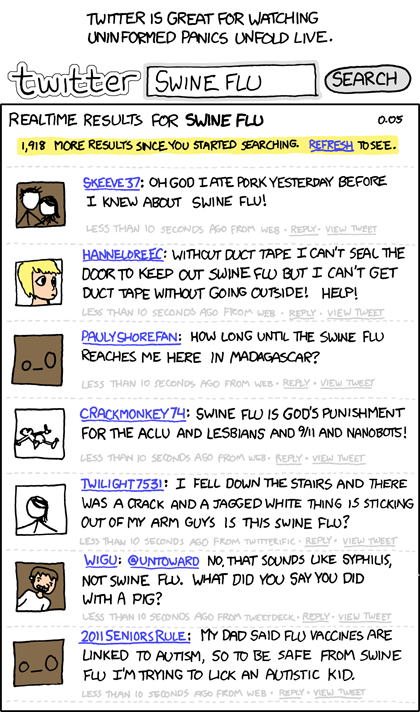 Wishing you a healthy and safe day and a great weekend, I'll be back next week.